Automatic Power Factor Control Panels (APFC)
"matrishree" is installing the digital energy meter for industrial consumers having load 20 HP and above, which has the provision of showing the PF and insisting to maintain the average power factor above 0.90 for LT and HT consumers.
For maintaining the power factor according to the load factor, proper capacity of capacitors is to be connected. The value of capacitors to be connected will vary with respect to load and its existing PF. There are two ways to maintain PF-
Fixing of capacitor at the load end permanently or at the mains. Generally which is recommended for the fixed load like pumps, fans etc. and it is not possible for the load which has variations in the load and PF.
The power factor can be maintained by installing Automatic Power Factor Control Panel (APFC Panel).
WORKMANSHIP GUARANTEE
Equipments offered by us are guaranteed against any manufacturing defects for a period of 18 months from the date of supply or 12 months from the date of commissioning, whichever is earlier. We undertake to repair or replace, at our option, any part/parts found defective on account of faulty workmanship or defective materials that may be brought to our notice within 12 months from the date of erection & commissioning or 18 months from the date of delivery, whichever is earlier. Any repair/replacement required to carried out under the provision of guarantee will be carried out at our option, either at our works or at site. The guarantee will become void if
a) The equipment is not operated as per our instructions given in operation manual.
b) The ultimate customer resells the equipment to another party.
c) The equipment is modified during the warrantee period.
The defect liability under this guarantee shall be taken by us only for the job done by us. In case of bought out items, the defect liability will be limited to the guarantee provided by our principals.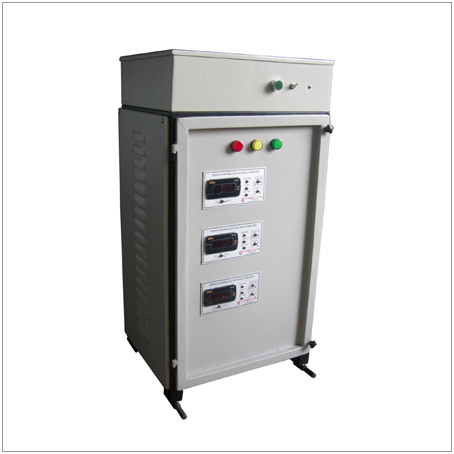 AVR Voltage Stabilizer
We are a prominent supplier of AVR Voltage Stabilizer, which is an automatic stabilizer known for its high performance and longer service life among the clients. Our range of AVR Voltage Stabilizer is very popular in overseas for competitive price and stable performance.
Specifications
Input voltage : 150-270V
Output voltage : 220V±8% 110V±10%
Delay output time : 3-7min/3-7sec
Frequency : 50Hz/60Hz
Advantages
Compact size
Light in weight
Delay output
Reliable
Accurately assembled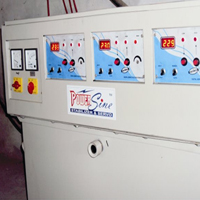 Servo Voltage Stabilizer
We bring forth Servo Voltage Stabilizer that is extensively used in various places. Owing to its qualitative features, our range of Servo Voltage Stabilizer is widely demanded in the domestic market. These Servo Voltage Stabilizers are available in varied specifications to meet clients requirement.
Known For
Excellent performance
Longer working life
Low maintenance
Optimum quality
Applications
Color labs
Flour mills
Oil industries
Bank
Telecommunication
Hospitals
Petrol pumps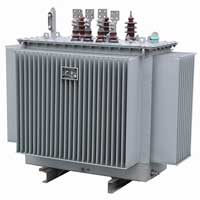 Power Distribution Transformer
We are engaged in supplying of proven range of Power Distribution Transformer, which is manufactured as per ISS 2026/1180, and relevant international standards. These Power Distribution Transformers can be accessed in varied specification as per the requirement. We offer Power Distribution Transformer at market leading prices.
Specifications
Type : Oil Cooled
Capacity : 5 KVA to 5000 KVA
Input voltage : 11 kv, 22 KV, 33 KV (or as required)
Output voltage : 433 volts' or as required.
Application : Both Indoor and outdoor
Tapping : Offload tap changer or on load tap changer.
Winding : Copper or Aluminum (as per requirement)
Cooling : ONAN Cooled
Advantages
High efficiency
Longer working life
Low maintenance cost
Optimum quality
Online UPS
We provide the clients with high performing Online UPS, which is available in varied specification and with relevant guarantee. The Online UPS offered by us, is extensively used at homes, offices, schools, hospitals, etc. Further, we provide prompt services for the same and are highly admired by reputed government and institutional organizations.
Appreciated For
Excellent performance
Longer working life
Low maintenance
Optimum quality
Capacity Available
20 KVA, 30,40,60,80,100,120,140
Applications
Textile Machineries | Printing Industry | Pharmaceutical Industry | CNC Machine | Hospitals | Film Industry | Food Processing industry | Resorts / Hostels / farm house | Engineering Plant | Automobile Industry | IT industry.